Tennessee and Mississippi military moving company: we offer money-saving personally procured moves (PPMs)
At Morgan Moving and Storage, we offer moving options specifically designed for the military throughout CONUS (the contiguous United States). We are a military-approved vendor and are assigned moves by the U.S. government. But, that's not all.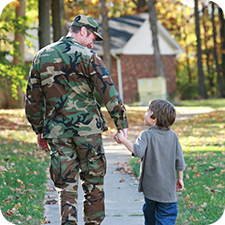 We also handle personally procured moves (PPMs) throughout the United States that can save you money. (These were formerly known as DITY moves.) With PPMs, you can hire your own mover – and end up with some extra cash in your pocket.
Need relocation to a new assignment ASAP? Contact us any time get a quote for your PPM, or call 615-226-7000 (Tennessee) or 662-728-9483 (Mississippi).
Personally procured moves (PPM)
Under the PPM program, as a member of the military, you can move your household goods yourself, including hiring your own commercial carrier.
To find more specifics about the PPM program, you can go to Military OneSource, which says this type of move might be right for you if "you are interested in making a little extra money and don't mind the extra work . . . The program is open to active-duty and retiring service members, but you must have prior approval from your service's transportation office."
You can find more informationat this site about PPMs – along with ten tips on how to plan a smooth military move. Also find out about the Defense Personal Property System.
Let us help: contact Morgan Moving and Storage for your PPM
We move military families anywhere across CONUS, handling each shipment carefully, loading your belongings appropriately and transporting them safety to the correct destination. We make military moves our priority!
We have been moving families for more than 40 years and we are part of the Bekins Van Lines affiliation. Bekins is the nation's longstanding van line leader, moving families since 1891.
Contact us now to get your free quote for your PPM, or call 615-226-7000 (Tennessee) or 662-728-9483 (Mississippi).