Packing can be one of the biggest challenges of you move. Consider using Morgan's professional packing service. Whether you select Morgan's professional packing service for your entire household or just a few special items, we can help you. Morgan's professional packing services offer you convenience and peace of mind. Our packers are trained in packing methods to alleviate any damage during transit. We offer a full range of packing services from the complete packing of all items in your home, to partial packing services. Or, you may want us to pack you fragile items like china, glassware, mirrors or artwork. Whatever you packing needs, we can assist.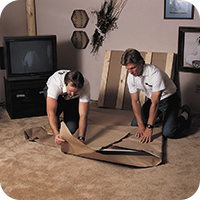 And don't forget to take advantage of our complimentary "First Day Service" option on shipments of 3,500 lbs. or more, if the cartons were packed by Morgan.
Service includes unpacking at moving family's request of one (1) dishpack, all mattress cartons and up to four (4) additional cartons. These are items such as your children's favorite stuffed animals, bedding, pillows, your coffee pot, coffee mugs, towels and other bathroom items that you will need immediately upon moving in. You will have access to these cartons first so that you can begin settling into your new home immediately.
We know how important it is to you that your goods arrive at your new home safelyand without damage. The correct packing of your household goods will ensure that they remain safe during transit.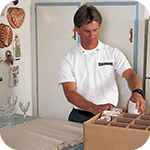 Whether you use Morgan's packing service or if you decide to pack on your own, it's important to plan and organize. Plan to pack only items that you will use in your new home. Don't pack items that you've be planning to get rid of – donate them to charity.
ITEMS THAT CANNOT BE PACKED:
Hazardous Items
Cleaning Supplies
Solvents
Paint
Aerosol Cans
Flammables
Ammunition
High Value Items
Furs
Jewelry
Precious stones or metals
Important personal documents
Valuable collections
Stocks and bonds
Cash
These special items may be packed, but since they are invaluable to you, do not pack them to move in the moving van – be sure to take them with you.