When it's time to move your office, it's crucial that it's done efficiently to prevent a slowdown of your productivity and profitability. That's why we hire trained experienced professionals to carefully coordinate the packing, transporting and delivering of your office belongings. Our pros often work together on specialized teams, each taking pride in the quality of his or her work.
Request your FREE no-obligation quote online now or call us:
Tennessee move: 731-422-2200
Mississippi move: 662-728-9483
Alabama move: 256-767-6211
Morgan Moving and Storage uses specialized tools to get the job done right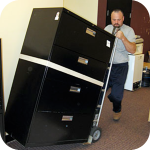 We use whatever tools and equipment are needed to get the job done: efficiently, effectively and safely. These tools range from simple hand equipment to heavy duty dollies; from grip hoists, sage jacks, stair climbers and conveyors to forklifts, sky cranes and more.
Top-notch technicians disassemble even complex computer networks and telecommunications cables, then reinstall them properly. We take apart and then put back together office cubicles, effectively move office furniture and more.
Our commercial move division can help design a new floor plan in your new location, including space planning, existing and new furniture evaluation, and much more – whether you're moving from one part of a building to another, from one local location to another, or even if you're involved in an out-of-state or out-of-country move.
Stop stressing. Let our business get your business up and running again in your new location.
Ask for your free no-obligation office moving company quote today
Let us reduce the stress of your office / industrial / commercial move, starting with our professionally prepared plan to save you time and money.
Request your free quote now or call us at 731-422-2200 (Tennessee) or 662-728-9483 (Mississippi) or 256-767-6211 (Alabama).