Free moving guide from Morgan Moving & Storage
You can feel overwhelmed when it's time to plan a move – and that's understandable. But, you can greatly reduce your stress through effectively planning, and we can help.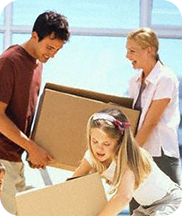 First, be aware that the relocation process generally takes 90-120 days. And, if you are planning to move during the summer, you will need to contact us at least 30-45 days before your planned date. These months tend to be the busiest times so be proactive.
Tips for moving with children
Children can be nervous about moving. You can ease their worries, though, with the following tips:
Involve them as much as you can with the moving process. Have them pack their toys and other personal belongings in a special box just for them.
Talk with them about any fears and answer questions. Assure them that everything will be okay. If you can, show them their new home and community online. See if you can find activities and fun places in your new community that your child can get excited about.
Have someone available to babysit your children at a separate location on moving day. Seeing their belongings loaded on the moving van can be upsetting. We recommend that your children be with family and friends throughout the entire moving day to help reduce anxiety.
Tips for moving with pets
Your pets are not allowed on the moving truck, so you will need to make special arrangements for the transportation of your pets to your new location. We highly recommend that you do not have them in your home during moving day.
Acquire your pet's health records from your veterinarian. Update tags if necessary and consider tranquilizers to keep your pet calm while being transported to your new home.
Tips for moving plants
Morgan Moving & Storage cannot move or be responsible for your plants on our moving vans. Many states have enacted quarantines on plants that are moved. We suggest you carefully transport your plants in your own vehicle.
Find a step-by-step moving checklist for the three months preceding your move.