Professional packing services in Tennessee and Mississippi: hand over the stress to us
We often hear how excited people are about their new homes, but we seldom hear how much someone loves packing – because, let's face it: most people don't.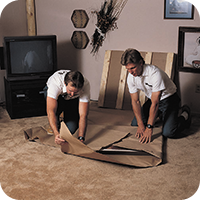 Packing can be challenging. You may not have the right packing supplies. You may run out of them. You may not know how to wrap certain belongings and you worry that you aren't packing them securely enough. You may be too busy with other aspects of your move – or a combination of the above.
Stop stressing. Contact Morgan Moving & Storage online and let our trained professionals pack your items. Or call us at 731-422-2200 (Tennessee) or 662-728-9483 (Mississippi) or 256-767-6211 (Alabama).
Our complimentary (free!) First Day Service makes the transition in your new home more convenient and comfortable.
On shipments of 3,500 pounds or more, when we do the packing, we will unpack:
All mattress cartons
One dish pack(kitchen) carton
And up to four more cartons of your choice
That way, your children can have their favorite stuffed animals with them at night, and you can have your coffee percolating the next morning. You choose which four additional cartons will give you the best night's sleep and most peace of mind, and we'll unpack them.
Choose our professional packing services today
Our skilled specially trained team knows how important it is to transport your belonging to your new location, on time and undamaged.
Don't delay. Contact us online or call us at 731-422-2200 (Tennessee) or 662-728-9483 (Mississippi) or 256-767-6211 (Alabama).
Items you should pack and transport
Cleaning supplies, solvents, and hazardous materials
Aerosol spray cans and paint buckets
Anything flammable
Gun/rifle ammo
Valuable items, including but not limited to furs
Precious stones and jewelry
Valuable collectibles
Personal or confidential documents
Money (stocks, bonds, cash)
Pack these items separately and transport them in your own vehicle to the new location.