Reduce stress with a trustworthy, experienced moving company
Whether you're moving into or away from the Mississippi region – our residential moving services will help you feel more confident about your big move.
Our professionally-screened, highly experienced staff are with you all the way, including when:
you're planning your move: we provide you with a personalized moving plan
it's time to pack up your belongings: we offer a range of options
the moving trucks leave your home: we'll show up on time with clean and modern moving equipment
your possessions are carefully placed in predetermined locations in your new home: we provide 24/7 online tracking
Request your quote online now or call 615-226-7000 for your Tennessee move – or 662-728-9483 for your Mississippi move.
Local in-state residential moving services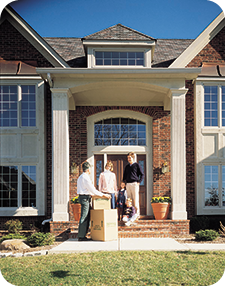 As with all of our moves, you can choose to pack your own belongings to save money, or allow us to pack for you. We:
hand wrap breakables
use special crating for heirlooms, mirrors, paintings and more
take care with each item you own
Find out more about our local residential moving services.
Long distance out-of-state-residential moving services
With a long distance move, you aren't just leaving your former home – but also your community. To help during your long distance move, we provides multiple pricing options plus the following enCompass™ concierge services:
home sale marketing
rental assistance
home buying assistance
temporary living assistance
We can even help you secure your new mortgage. Let us simplify your moving process and take the load off your shoulders.
Request your quote online now and ask about our $150 discount. Or, call 731-422-2200 for your Tennessee move – or 662-728-9483 for your Mississippi move – or 256-767-6211 for your Alabama move.