LOADING AND MOVING DAY
Your items are packed and ready to be loaded. The day before moving day, you will be called by your Morgan Moving & Storage representative to schedule move times and discuss any last minute details.
It is your responsibility to be there on moving day. If you cannot be there, you must designate a person to be present on moving day. Be assured that your items will be loaded and transported by professionally trained service providers experienced in proper loading techniques to minimize damage in transit.
Morgan Moving & Storage knows how important it is to protect your home, so we use runners and special padding throughout the house to avoid any damage to carpeting, flooring, doorways and molding during the move-out. We will also use stretch wrap or padding to protect upholstered furniture or any other furniture that can cause damage to other items.
Your Morgan Moving & Storage driver will prepare an inventory of items to be moved, and each item is noted for its' physical condition. Please be sure that each item is listed and that the condition of each item is accurately indicated. Each item to be moved will be labeled with an inventory sticker and numbered so that it's matched on the inventory sheet.
Both you and the driver will sign the inventory to finalize the items being loaded and moved. Our loading team will load your goods onto the moving truck using strapping if necessary. Once the van is loaded, you will be asked to sign your Bill of Lading (shipping contract) to confirm agreed upon services, schedules, selected valuation coverage and to authorize the transport of your household goods being moved.
DELIVERY DAY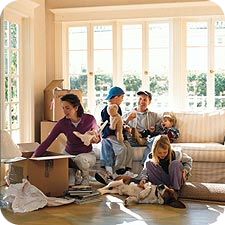 It is your responsibility to be present on delivery day. Be sure to have your payment ready, as payment is required upon delivery, unless other billing arrangements were made in advance. Accepted method of payments include cash, cashier's check, traveler's check, credit card (with prior approval) or money order. Be aware that personal checks cannot be accepted.
As the driver unloads each item, carefully inspect each item for damage and check it off the driver's original inventory form. If any item is damaged or missing, you must identify the missing items and/or note the damage on the driver's inventory. This is required if a claim is filed and settlement is to be made.
After unloading, you will be asked to sign the inventory form. Before you sign, be sure that you accompany the driver for one last inspection of your shipment and your residence. Your signature indicates that you have received your articles in the same condition (unless noted) as when they were picked up for transportation.