Morgan Moving and Storage provides portable storage solutions that are ideal for:
Home owners who need short-term storage when remodeling their home or needing to declutter to stage their home during the selling process
Budget-conscious people who need affordable storage choices
DIYers who are coordinating their own moves
Companies that need storage space for records and other documents
College students in between semesters
Contact us today to find out what storage solutions make sense for your situation. If you're in Tennessee, call 615-226-7000. In Mississippi? Call 662-728-9483.
Outdoor storage options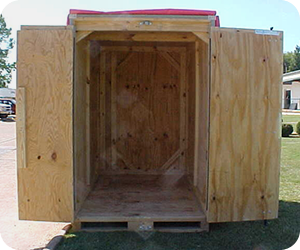 Morgan Moving and Storage offers self-pack storage units – 8′H x 8′L x 5′W – that can be stored on site or taken to a secure warehouse. Each unit is approximately 300 cubic feet and can contain a roomful of furniture – perhaps a room and a half.
When you choose our outdoor storage services, we'll drop off the number of units that you need and you pack at your own convenience, on your own timetable. It's your choice. You can also choose whether to keep these units onsite or to have us store them in our facility.
You can use these units temporarily or more permanently – and, if you're ready for redelivery from our place to yours, you simply give us a call and we'll take your outdoor storage units anywhere you need. Or you can visit our warehouse.
Contact us to get the portable storage units you need
Call 731-422-2200 in Tennessee or 662-728-9483 in Mississippi or 256-767-6211 in Alabama.
ADVANTAGES OF OUR 5X8 STORAGE UNITS

Ground level loading

The Outdoor Closets are only 6 inches off the ground making it much easier to load. There are no awkward ramps to use and it's much less physical work to load or unload!

Industry tested and proven sized containers

The size of our Outdoor Closets are a proven industry standard. If you need more space, simply get a few more Outdoor Closets. The moving industry has been using this size container for over 75 years. This size prevents damage to your belongings because they are much easier to pack and secure.

Less damage to your items

When you pack a full household of belongings into separate Outdoor Closets your belongings are much less likely to shift or get damaged. Using several Outdoor Closets is a safer and more secure method of storing and moving all of your household belongings.

Easy to load at your door

Our delivery method allows us to place Outdoor Closets pretty much anywhere! We can drop off Outdoor Closets to whichever locations are comfortable and convenient for you. You can even load your belongings straight from your front door!

Load items only once

By using Outdoor Closet, you are basically getting the storage facility delivered to you. With Outdoor Closet, you only load your belongings once into the Outdoor Closets. Outdoor Closets can remain on your property for several days so you can load it at your leisure. Plus, by avoiding the hassle of having to load and unload belongings from a truck to a storage facility your belongings receive much less wear and tear!

Modular system

Outdoor Closet offers a modular storage system. By using multiple Outdoor Closets you can separate your items according to any type of category you may need. So you can separate garage items from clothes or other types of personal items you may need more or less frequent access to. This is especially useful if, for example, you're temporarily moving into a smaller place and would like to stagger delivery of your belongings at different times or to different locations.