Clarksville moving services in southern Kentucky: in a world where new companies come and go, you can count on Morgan Moving & Storage
Our professionally screened team has been moving families and businesses like yours since 1956. Our Nashville, Tennessee team also serves southern Kentucky, including Clarksville, Fort Campbell and surrounding areas.
Whether you need a local in-state move or a long distance out of state move – and whether you need a residential move or a commercial one – we're here to help. We provide on-site quotes for accuracy and your convenience.
Contact us online today or call (615) 226-7000.
Options for your Clarksville, Kentucky residential move
Morgan Moving & Storage provides you with a professional moving plan that includes choices among our top notch services, whether you are making a local in-state residential move or a long distance out of state one.
Options include:
Packing your belongings yourself to save money
Using our packing services, where we hand-wrap breakables, use special crating for mirrors, paintings and heirlooms, and more
No matter which you choose, you can benefit from our 24/7 online tracking system and you can inspect each item as it comes off the truck. We then place each one in its pre-determined location.
When you're moving long distance, our concierge staff helps get you settled into your new home and community, and the enCompass™ program will provide you with a relocation coach and even help you with:
Home marketing
Rental assistance
Home buying assistance
Temporary living assistance
Securing your new mortgage
Options for your Clarksville, Kentucky commercial move
When you're moving your business, whether it's an office setting or industrial, you'll appreciate our start-to-finish commercial moving services.
In our corporate relocation program, you'll have a single account executive work with you from pre-move to post-move. You'll also be able to access our advanced technology linking agents and accounts to monitor driver information, shipments and more.
Take advantage of our moving resources to reduce stress
We provide:
Get your free moving company quote online
Ask about our $150 moving discount when requesting your free quote online or call (615) 226-7000.
---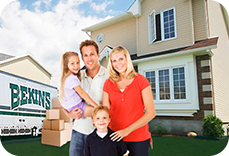 NO MATTER WHERE YOU ARE MOVING TO, MORGAN HAS YOU COVERED.
LOCAL MOVES (In-State)
LONG DISTANCE(Out-of-State)
CORPORATE RELOCATION
OFFICE/INDUSTRIAL
FULL SERVICE STORAGE
PORTABLE STORAGE
---