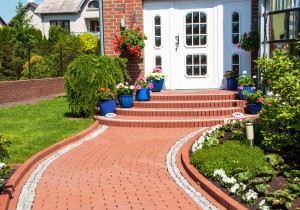 Maybe you want to prepare the home you are listing on the market. Or perhaps you want to update the landscaping of your new home to make your yard the envy of your neighbors. In either case, you may be at a loss on how to create an impressive curb appeal.
While neatly manicuring your lawn, mulching the beds and otherwise properly maintaining the space can go a long way toward accomplishing your goal, you may be interested in taking your game to the next level. These ideas can help you to generate the results you desire.
Clean your space
There are few things that can detract from curb appeal more easily than dirt and grime. Power washing your patio, exterior home facade, driveway and walkways can quickly remove the grime that may be negatively impacting your curb appeal.
Enhance your front door
Your front door is a focal point of your home, so take time to enhance the look of this space. Repainting or re-staining the front door and updating the hardware and light fixtures can yield incredible results.
Make your entryway pop
For a finishing touch, consider replacing the front doormat. Add a doormat that accents the exterior paint and stain of the front door. Add a decorative wreath or vegetation such as potted plants to the patio space. Update the light fixtures and any door hardware on the front door or garage door to a style that matches the home and the neighborhood.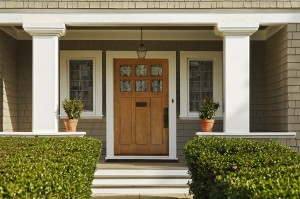 Dress up the lower beds
The most beautiful yards are those that have gorgeous flowers and lush vegetation in the beds. When you walk by different homes in your neighborhood, pay attention to how the flower beds are designed and how thick, lush and colorful the vegetation is in your favorite yards.
Mimicking these results in your own yard can have a beautiful impact on curb appeal. You can also dress up your flower beds at night with the installation of solar border lights.
Add decorative borders and walkways
Updating the hardscaping in your space can provide your curb appeal the extra decorative touch that it may be lacking. You can use natural stone, pavers and other decorative material to add color, patterns and textures to your borders, walkways and patios. Another idea is to stain your concrete an attractive color.
Each of these thoughtful ideas can have a positive impact on your curb appeal, and you may wish to combine the ideas for more comprehensive results. If you are interested in dressing up your curb appeal, take time to develop a strategic plan for your property and spend the next few days or weekends executing those plans.
If you are in the process of moving or relocating, trust the services of Morgan Moving and Storage to move your family and belongings to your new home. We pride ourselves in providing hassle free customer service and exceptional moving services to families and commercial entities. Click here for a Free Quote.
Create an impressive curb appeal